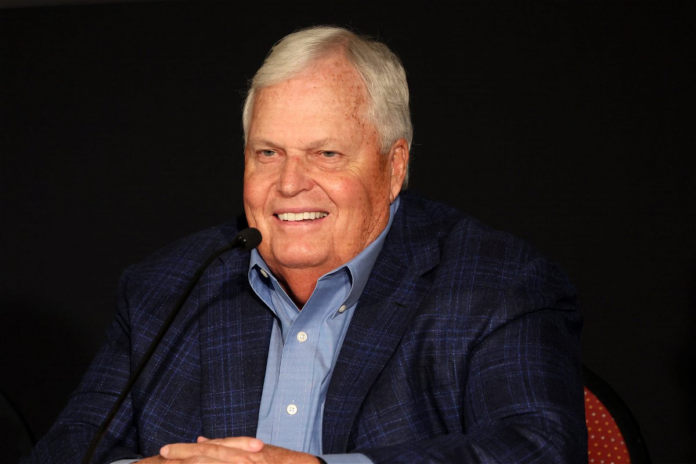 SEBRING, FLORIDA – MARCH 17: Hendrick Motorsports owner Rick Hendrick speaks to the media during the NASCAR, IMSA, and Hendrick Motorsports press conference for the Garage 56 entry at the 2023 24 Hours of Le Mans announcement at Sebring International Raceway on March 17, 2022 in Sebring, Florida. (Photo by Sam Greenwood/Getty Images)
While Denny Hamlin, the prominent figure from Joe Gibbs Racing, dominated the first two stages, when the final stage began, it was clear that the track was destined for Kyle Larson, representing Rick Hendrick's team, as if fate had orchestrated his success.
America's Favorite Video Today
Seizing his first-ever victory on this track, it wasn't just a personal achievement for the skilled driver of the No. 5 Chevrolet Camaro ZL1. It was also a milestone for Hendrick Motorsports. This revelation came from an iconic figure of NASCAR's golden era.
Hendrick Motorsports, the brainchild of Rick Hendrick, strikes gold at the Darlington showdown
ADVERTISEMENT Article continues below this ad
While Denny Hamlin carved out a path, blazing ahead and wresting control from his wingman, Christopher Bell, the duo from JGR's stable hit a few snags. Their attempts at recovery didn't quite bear fruit. Yet, thanks to Hamlin's masterful dominance in two stages, he wasn't left empty-handed. Spying a window of opportunity, Tyler Reddick and Kyle Larson took advantage of the opportunity, and their gambit paid dividends.
Kyle Larson, though he danced close to the fire, brushing and clashing with the wall repeatedly in the final stretch, didn't miss a beat. The duel between Larson and Reddick had all the hallmarks of a high-octane sprint car face-off.
But amidst the on-track theatrics, one golden feather in the cap stood tall and gleaming: the magnum opus of Rick Hendrick, Hendrick Motorsports, notched up its 299th victory lap in the Cup Series. A staggering $1 Billion venture, the triumph is a trailblazing feat, setting the gold standard for competitors to aspire to.
Kyle Petty, ever the keen observer, tipped his hat to the remarkable feat. In his words, "Hendrick Motorsports' 500th engine shop win, that is huge in this sport. I want you to think about that. They have built engines that have won 500 races; they are on their 299th win as an organization. Those are milestones in the sport that may never be reached again, and we should celebrate that."
Yet, the day wasn't without its blemishes, as another Hendrick Motorsports knight errantly steered off course, a misstep he candidly acknowledged in a confession on Instagram.
Watch This Story: Brad Keselowski Goes Berserk on the Radio After Nascar's Rick Hendrick Favouritism
The HMS driver hits a bump in the road at Darlington
ADVERTISEMENT Article continues below this ad
While the road seemed smooth for most of the brigade of Rick Hendrick, Alex Bowman's roll of the dice added an unexpected twist to the tale. With Kyle Larson taking the laurels, William Byron cruising to the fourth spot, and Chase Elliott anchoring at eighth, Bowman was poised to round off a top-ten HMS fiesta. Yet a risky maneuver, locking horns with Daniel Suarez, turned their race to gold into a nosedive to P33 and P34.
Providing feedback will help us make your experience better. The Fan's Perspective Enjoyed Your Read? Let us know how likely you are to recommend EssentiallySports to your friends! 1 2 3 4 5 Least Likely Most Likely Submit
The fallout was palpable: from a vantage point within the top 10, Bowman and Suarez spiraled down to a somber tail-end finish. Yet, in the wake of the chaos, Bowman donned the mantle of accountability, publicly bearing the cross for the on-track fiasco. He forthrightly commented, "Bad block, but that's on me for sure; I had no idea he got through outside. Just trying to hold on all the track positions we could. We were super fast on long runs and just struggled tight on short runs, and needed to keep our track positions we could. Yeah, bad block; cars crashed."
However, Bowman's remarks also hinted at deeper undercurrents, suggesting that Suarez, too, might have been playing for keeps.
ADVERTISEMENT Article continues below this ad
Nevertheless, with HMS riding high on other triumphs, this stumble is but a hiccup in their journey. NASCAR aficionados will undoubtedly be on tenterhooks, awaiting a resurgent display in the forthcoming playoffs.