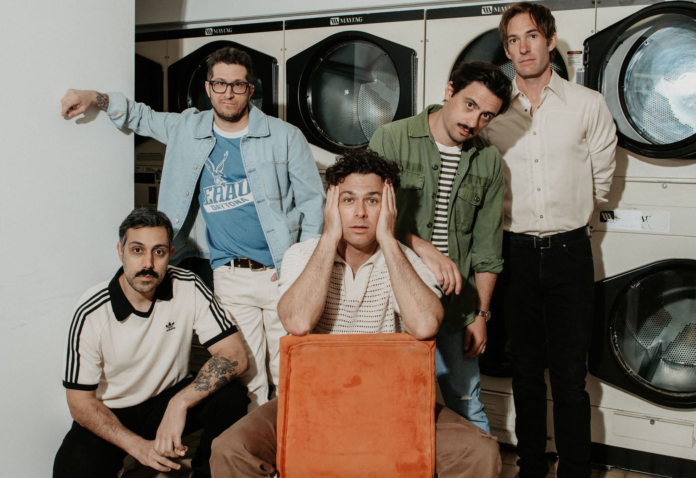 Concert Reviews Arkells, Canada's biggest band, treated Boston to a new song debut While the band frequently sells out arenas in their home country, their presence in America showcases a more intimate side. Arkells brought their "At Your Service" tour to Boston Oct. 3. Courtesy Photo
Arkells, Paradise Rock Club, Oct. 3
Canadian rock band Arkells took over Boston's Paradise Rock Club Tuesday night with the promise of making it a Friday. After all, Tuesdays are "rock and roll's enemy."
Laundry baskets, clothes lines, bubble guns and a rotary phone decorated the visual aesthetic of Arkell's stage. The band returned to Boston on their "At Your Service" American tour, which combined a number of interactive components and fan-forward moments.
No matter how you've heard of them, whether it be from one of their best-selling albums, plugs in Hollywood movies (like Adam Sandler's new "You Are So Not Invited To My Bat Mitzvah"), video games, or from their nine Juno Award wins (Canadian GRAMMYs, for those unaware), Arkells are a band that's always felt accessible. Quite literally "At Your Service," the group is putting a memorable spin on songs new and old.
Advertisement:
"It's such a pleasure to be here," frontman Max Kerman told the crowd. "This is an amazing rock and roll room. The history of all the bands that played here is pretty spectacular. We're honored to be on this stage."
Over the years, Arkells have actually graced many a stage throughout the city, including House of Blues, Royale, The Sinclair and the greatly missed Great Scott. Before the show, Kerman reflected on their past times in Boston with fondness.
"We always have a good time in Boston," he told Boston.com. "Opening for Frank Turner at Agganis Arena was really cool — they've got a really awesome fan base there in Boston. The Royale is maybe my favorite of the venues. That's a really cool one. Our last show at Paradise was awesome. I always just try to drink a lot of Dunkin' Donuts and try to talk to Boston people like, 'You think you're better than me?' with the accent. That's my Boston routine."
While the band frequently sell out arenas in their home country just north of the border, their presence in America showcases a more intimate side of Arkells, where fans have direct access through audience participation, and moments when Kerman jumps into the crowd.
Advertisement:
In the theme of their new album "Laundry Pile," which was released on Sept. 21, the stage was hung with a clothesline boasting custom t-shirts that spelled out the band's name, along with a welcome.
"In this basket we have 10 t-shirts with 10 new song titles on it from the record," Kerman said, holding up a laundry bin and then choosing an eager fan to pick a shirt from the multicolored laundry pile. "Wash Away" was chosen, making it the tour debut of the new song and the first time the band ever played it live.
The band put on a memorable show, raging through their anthemic hits "Leather Jacket" and "Knocking at Your Door," while punctuating moments of rock reverie with intimate moments for Boston-based fans to cling to.
Peppering the set with moments of Boston-isms and admiration for the city, Arkells proved that you do not need to be born and bred to embrace the magic of New England.
"Arkells and Boston forever!" Kerman exclaimed before launching into their closing song, the hit "You Can Get It." In a fitting end, a t-shirt reading "Thank you Boston" was hung up on the mic stand.