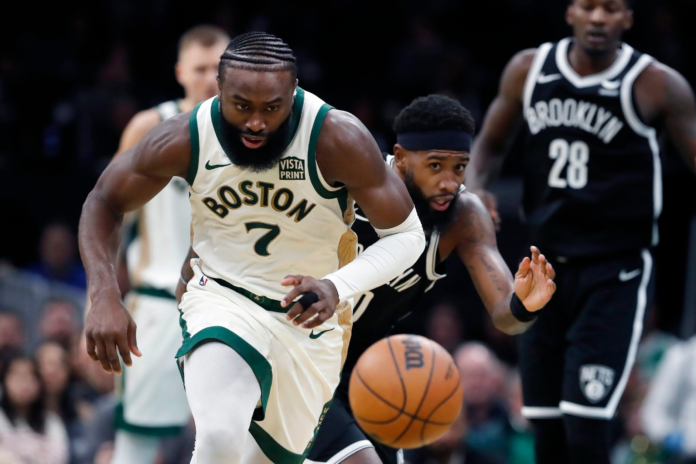 Celtics Celtics snap skid, win first in-season tournament game vs. Nets: 10 takeaways The Celtics bounced back with a nice win to start their in-season tournament action. Boston Celtics' Jaylen Brown chases the ball ahead of Brooklyn Nets' Royce O'Neale. AP Photo/Michael Dwyer
The Celtics bounced back after consecutive losses with a comfortable 121-107 win over the Nets on Friday.
Here are the takeaways.
1. So this is the in-season tournament!
Frankly, Friday's game felt a lot like a regular-season contest (presumably in part because it was a regular-season contest) once you got used to the dark green court and the clean new jerseys. The Nets were relatively competitive given that Ben Simmons and Cam Thomas were both out, but the game wasn't notably more chippy or physical.
Still, you can quickly see why this is a pretty good idea. Players are obviously much more focused on the end of the season (Al Horford sat out the debut for "injury management"), but giving a regular-season game some extra stakes adds a little something and subtracts nothing, even if players aren't throwing themselves around as if it's Game 7. When the knock-out rounds arrive, the stakes might feel a little higher to players, but even if they don't, they might feel higher for fans.
Advertisement:
The tournament even added a little bit of extra juice at the end, since point differential could come into play as a tie-breaker if records get tight (a 14-point win isn't a bad start).
This could be fun.
2. Jaylen Brown caught fire in the first quarter and poured in 21 of his 28 points in the first half. He was integral as the Celtics built a double-digit lead, both knocking down triples and getting to the rim.
Brown cooled off a bit in the second half, but the damage was done for the Nets, who never really challenged in the third and fourth quarters. After a tough stretch to start the year, Brown's 5-for-9 performance from deep is a reminder that there will be some nice performances that elevate him back up to the mean, which should enjoyable for Celtics fans.
3. Payton Pritchard has struggled to find the range from behind the arc so far, but he knocked down a pair in the first half.
He also made an impact by snagging four offensive rebounds, including an impressive pair in the second half. On the first, Pritchard grabbed the board on his own missed free throw and scored a layup (an egregious breakdown by the Nets). On the second, he shoveled the ball to Sam Hauser, who buried a triple.
Advertisement:
The Celtics outscored the Nets 29-5 in second-chance points, in large part thanks to Pritchard and the next player on this list.
4. With Horford out, Luke Kornet got an early call after Kristaps Porzingis picked up two fouls on the same possession in the first quarter. After struggling initially, Kornet pieced together perhaps his best game of the season with seven points, nine rebounds (six of which were offensive) and a blocked shot.
Kornet also fired off a gorgeous no-look assist to Pritchard and caught this lob from Derrick White.
Derrick White threw the ball up for Luke Kornet and he gets tonight's dunk of the game!
Presented by @dunkindonuts pic.twitter.com/sRdaEtxcKc — Celtics on NBC Sports Boston (@NBCSCeltics) November 11, 2023
Not a bad night for Kornet in a nationally televised setting. Being able to buy Horford or Porzingis time off when they need it by being an effective third big off the bench would be an enormous contribution this season.
5. Jayson Tatum had a weird game, but it was more than enough. In the first and third quarters, Tatum went scoreless as his teammates got themselves going. In the second and fourth quarters, Tatum scored 13 and 10 points respectively.
The Celtics would like a couple of baskets from Tatum in the first and third of course. Still, when he can elevate the second unit with a dominant performance at the start of the second period, opposing defenses seem to wilt a little bit, especially after dealing with a starting unit that has seemingly no end of buckets with or without big contributions from Tatum.
Advertisement:
6. This probably doesn't mean much, but it is pretty interesting (even if the "every Celtics home game" sample size is just three so far).
Jrue Holiday has scored off a Jayson Tatum assist on the 1st possession of every Celtics home game this season. pic.twitter.com/MJC8JKET5S — Taylor Snow (@taylorcsnow) November 11, 2023
7. Holiday finished just one assist short of a triple-double with 13 points, 12 rebounds and nine assists. He and Tatum were +26 and +28 respectively.
On a less important (but mildly funny) note, the colors on the Celtics' new jerseys are so reminiscent of the Bucks' "Cream City" jerseys, Holiday looked like he never left.
8. Sam Hauser continued to knock down 3-pointers at a high rate — he finished 5-for-10 with 15 points. His ability to float to open space was on full display, and the Nets might have hung tough longer if he wasn't there to space the floor. Once again, when Hauser catches one of his heaters, the Celtics have a tendency to pull away. It's hard to keep a finger on every leak when the offense is rolling.
9. Kristaps Porzingis picked up his fifth technical of the season, which puts him on pace for just over 51 technicals. Presumably, that won't happen, but players are suspended for one game after 16 technical fouls and for another game for every two subsequent technicals.
In other words, if this keeps up, Porzingis is going to miss a lot of time. At best, he looks like he will be feeling the crunch by the end of the regular season.
10. The Celtics kicked off a three-game home stand against Atlantic Division opponents with their win Friday. On Saturday, they will host the Raptors, before the Knicks arrive on Monday.
Advertisement:
The next in-season tournament showdown will take place at Toronto on Nov. 17, followed by another road game against the Magic on Nov. 24. Their final game of group play is Nov. 28 against the Bulls.