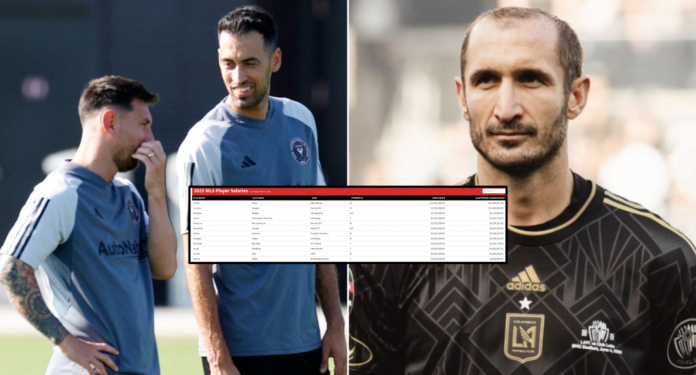 Highlights The MLS is competing with the Saudi Pro League to become the biggest and best league outside of Europe, and attracting star players with hefty wages is crucial to their success.
The MLS Players Association has released its Salary Guide, revealing the top 15 highest-earning players in the league. Some familiar names like Raul Ruidiaz and Nicolas Lodeiro are among the top earners.
Surprisingly, players like Jordi Alba, Sergio Busquets, and Giorgio Chiellini, who are high-profile and highly skilled, do not make the top 15 list. This could be due to their age and declining performance compared to their younger counterparts.
As The MLS (Major League Soccer) attempt to climb the ladder and cement themselves as one of football's most dominant league, attracting stars with hefty wage packets is seemingly one of their objectives. Competing with the Saudi Pro League, which boasts stars such as Cristiano Ronaldo, Neymar, Karim Benzema, and N'Golo Kante, both divisions are locking horns to become the biggest and best outside of Europe.
The MLS seemingly have a head start on their Middle East-based counterparts given an array of big names have spent snippets of their respective careers earning their corn in the United States of America, not least Wayne Rooney,David Beckham and Thierry Henry.
But with the aforementioned trio now moved on, who has taken their place? Now, the MLS Players Association (MLSPA) have released what fans around the globe boast heavy interest in: players' wages. By releasing its 2023 edition of the Salary Guide, they have entailed all salary detail and information for all players that found themselves contracted by September 15, 2023.
The guide contains players' current base salary and their – over a one-year period – average guaranteed compensation – but which players form the top 15 highest-earners in MLS? You won't be getting a gold medal for guessing some of the inclusions, but there are definitely some that will shock you readers. Let's take a closer look at the top 15.
15 Raul Ruidiaz – $3,201,120.00
Born in Peru, the 33-year-old striker has led the line for the Seattle Sounders since joining back in 2018. In the 2021 campaign, Rudiaz enjoyed a club-best tally of 17 goals in the MLS and has been a reliable frontman, which mimics his hefty pay packet. So far this term, the Lima-born ace has five goals and the solitary assist to his name. With his current deal at The Sounders set to expire at the back end of 2024, they may have to up their hefty outlay to keep Ruidiaz on board past his sell by date. Though, with his goal return showing evident signs of deterioration, his days of earning $3,201,120.00 per year may be coming to an end.
14 Nicolas Lodeiro – $3,256,667.00
Seasoned veteran Nicolas Lodeiro is one of Seattle Sounders' biggest-earners with $3,256,667.00 – in total – lining his pocket per year. At 34 years of age, the Uruguayan is still going strong and has accrued 32 appearances this campaign, scoring the solitary goal and adding five assists to his CV. His most notable moment in the club's shirt came in the 2022 CONCACAF Champions League final as he scored a hat-trick of strikes across the two-legged affair as they reigned 5–2 victors. Now the wrong side of 30, Lodeiro is still flying the South America flag high and is doing so as the league's 14th-highest earner, in terms of Guaranteed Compensation anyway.
13 Carles Gil – $3,545,833.00
Premier League fans will remember his ill-fated one-season stint, in which he was demoted to the U21s, but there's no denying how pivotal he has been to New England Revolution since his 2019 switch. In England, failed to settle at a then turbulent Aston Villa, the Valencia academy graduate quickly became the 'assist king' in the MLS. Finding happiness in an unlikely place was, perhaps, shunted on the now 30-year-old, but we doubt he'll mind while looking at the $3,545,833.00 enter his bank account at the end of every year he plays. Galvanised by the New England Revolution armband, the Spaniard has scored 37 goals and notched a further 49 assists in his 147-game MLS career at the time of writing.
Read More: The 20 Greatest MLS Players Of All Time (Ranked)
12 Teemu Pukki – $3,550,000.00
From scoring goals for fun in the Championship for Norwich City to earning wads of money in the MLS – go on, Teemu! The net-busting Finland international earns a Guaranteed Compensation of $3,550,000.00 per annum. There was no doubt in the general football sphere that he has been – throughout his career – a great goalscorer, but the Premier League was perhaps a level above where he belonged. Becoming the first player in Minnesota United FC history to enjoy a quartet of goals in one game is a reason behind their large wage spend and has his 10-goal 2023 season to attest to that.
11 Carlos Vela – $4,383,900.00
Synonymous in the Spanish football circles for flying down the flank for Real Sociedad, Carlos Vela took his game up a notch with his MLS switch, having enjoyed a 93-goal career in 182 games. A failed stint at north London club Arsenal seemed to be a hindering factor of the 19-cap Mexico international but seeing as he's now earning a healthy amount of cash all the while scoring for fun, it's been a good deal for all involved. Now, he has gone on to captain his current employers Los Angeles FC, albeit through a popular vote on X (formerly Twitter), for five years. He has persistently shown his versatility across the front line being utilised as a forward, winger and attacking midfielder. Under his captaincy, they enjoyed a particularly successful 2022.
10 Josef Martinez – $4,391,667.00
Life in the MLS is going swimmingly for Martinez and not only because he lines up alongside seven-time Ballon d'Or winner Lionel Messi. Also earning a cool $4,391,667.00 a year, it's fair to say that Martinez will currently be living a lavish life. The 30-year-old Venezuelan was a key part of Inter Miami's League Cup win in August by scoring three goals and assisting a further two in the lead up to the final against Nashville. His influence perhaps clouded by Messi's involvement, but that's expected, isn't it? Nonetheless, the duo will be enjoying life as a formidable partnership, not least because of the eye-catching enter their pockets.
9 Christian Benteke – $4,432,778.00
Benteke, formerly of Liverpool and Aston Villa, plundered 86 goals across his 10-season spell in arguably the best league of the world, the Premier League. Now firmly established as a fan favourite at Audi Field (home of DC United), the Belgian left Crystal Palace in the summer of 2022 to seek pastures new. Life in the MLS is going relatively swimmingly for the large-statured centre-forward, who was perhaps underrated during his Premier League days, having netted a club-high 14 goals this season after notching just the one in seven games last time out. Earning $4,432,778.00 in Guaranteed Compensation per year is no joke and maybe his Premier League expertise had a part to play in him picking up such a healthy wage.
8 Douglas Costa – $4,508,333.00
Costa's time in the MLS has heavily gone under the radar considering he was once tipped to be the next best thing. Coming out of Brazil, the 31-cap international plied his trade for European powerhouse duo Juventus and Bayern Munich in yesteryear but now is storming down the right flank on a weekly basis for Los Angeles Galaxy, earning $4,508,333.00 in Guaranteed Compensation while he's at it. Never known to be a consistent goalscorer, the speedster has scored and assisted eight apiece in his 50-game MLS career. And at the age of 33, he'll most likely wind down his career in the basking American sun while lining his pockets – because why not?
7 Hector Herrera – $5,246,875.00
Just a stone's throw away from his native Mexico by plying his trade at Houston Dynamo, the former Atlético Madrid will be living well in the basking sun of America. Currently dwelling in fourth spot in the Western Conference, it's beginning to show why they snared Herrera away from the Spanish capital as he has plundered 15 goal involvements (4G, 11A) in this campaign's 29 games so far. Eyebrows began to raise following their insipid season in 2022 and Herrera didn't have as great of an influence on the outfit as fans would've first expected from a seasoned Mexican custodian, who has racked up 105 games for his nation.
6 Sebastian Driussi – $6,022,500.00
A key asset to both River Plate and Zenit St. Petersburg during his respective spells at each, the eight-cap Argentina U20 international has turned his hand to dominating a new continent. In doing so, he has been a potent goal threat for Austin FC since his introduction, scoring 43 goals and providing an additional 13 assists in 84 games from attacking midfield. Thanks to his impressive return in front of goal, the club's yearly outlay of $6,022,500.00 has been – and continues to be – a pretty solid investment. Hollywood star Matthew McConaughey co-owns Driussi's current employers and so it comes as little surprise that a lofty figure of wages goes in the direction of their leading goalscorer.
5 Federico Bernadeschi – $6,295,381.00
Earning $6,295,381.00 per campaign, ex-Juventus ace Federico Bernardeschi plays for bottom-placed Toronto. Admittedly, for all the clubs' frailties, the 39-cap Italy international is one of a handful that can hold their heads high for their efforts this season. He ranks second and third in his side's goals and assists tallies, respectively, but will need to pick it up should they wish to get out the current rut they find themselves in. No doubt that he is one of their brighter sparks but alongside spending such a huge amount of money on a yearly basis, you'd be expecting much more, especially from one of your more renowned frontmen in Bernardeschi.
4 Javier 'Chicharito' Hernandez – $7,443,750.00
Formerly of Manchester United and Real Madrid, the Mexican will be used to earning a fair bit of dough for his footballing exploits. That is still the case in America and seeing as he pockets $7,443,750.00 per annum in Guaranteed Compensation, the MLS outfit would expect more bang for their buck on the back from his two goal involvements in the current campaign. Labelled as one of the most lovable men in football, one of Mexico's heroes has been earning a pretty penny since his move in January 2020 from Sevilla. Despite underperforming this campaign, the 109-cap Mexico international, his employers' hefty, annualized expenditure has paid dividends given he has scored 39 goals in 83 games, though he is still yet to fire them to silverware.
Javier 'Chicharito' Hernandez – LA Galaxy Statistics Games 83 Goals 39 Assists 7 Yellow Cards 9 Red Cards 0 All statistics per Transfermarkt
3 Xherdan Shaqiri – $8,153,000.00
Here's your bi-weekly reminder that Shaqiri used to play for Stoke City. Now, just a mere five years down the line, and he's the MLS' third-highest earner? How times have changed, eh? Fans of the English topflight, especially those of a Liverpool persuasion, will look back at his days in England fondly. Having won the U.S. Open Cup on four different occasions, Chicago Fire were hoping that enriching their roster with a European-proven star would boost their chances of further silverware, but that has not been the case thus far. Back in May, The Athletic reported that the average salary from players plying their trade in the MLS was up by 3.5% and former Liverpool star Shaqiri was – then, at least – the highest paid in the America-based league, taking home 41% of Chicago Fire's overall spend.
2 Lorenzo Insigne – $15,400,000.00
Once a vital cog for Napoli in the Serie A, the 32-year-old swapped the city of Naples for Toronto back in the 2022 winter transfer window, much to the dismay of his boyhood club's fans. With such pedigree of his previous spells, the club knew they'd have to hand over a healthy wage to entice the Italian across the world. His side, Toronto, currently dwell in bottom spot of the Eastern Conference with just four wins from 33 games and so it's not unfair to say that their money could be better off spent elsewhere. Domestically, Insigne has recorded 10 goals and six assists in 30 games and, while they are not minute, his return is nothing more than mediocre. Pocketing $15,400,000.00 per season, the diminutive winger was the highest-earning player upon his arrival, though one newer incoming has – inevitably – surpassed his pay.
1 Lionel Messi – $20,446,667.00
A collective sigh of relief was let out around Europe as Messi finally upped and left in favour of moving to the United States of America. The riches of Inter Miami was just too good to turn down as he became the league's highest-ever earner. But that shouldn't come as much of a surprise – who else was it going to be? The pint-sized Argentine, since moving to Inter Miami, has chalked up 11 goals and five assists in 13 games and has quickly cemented himself as the league's most dominant force. Having strutted his stuff for Barcelona and Paris Saint-Germain in the past, Messi is no stranger to earning unfathomable amounts of cash and that notion has extended as he winds down an illustrious career in the MLS.
Read more: The highest-paid players in MLS history
Jordi Alba, Sergio Busquets and Giorgio Chiellini all out of the top 15
While the majority of the names in the top 15 will not come as much of a shock, two of Messi's teammates, who are both very high-profile, miss out by quite a bit.
Midfield operator Busquets earns a respectable $1,775,000.00 in guaranteed compensation, while his Barcelona and Inter Miami teammate Alba earns less on $1,250,000.00 per annum. And given their expertise at the pinnacle of the sport, many fans expected them to be nearer the top of the list, rather than in their respective spots.
As is Juventus cult hero Chiellini, who now plies his trade for Los Angeles FC at the ripe age of 39. After becoming a mainstay in Turin for one the country's most successful sides, he opted for an MLS move and as such, now earns – in the grand scheme of things – a measly $1,075,000.00.
Perhaps it's because all three are nearing the dying years of their trophy-ladened years as footballers and, unlike Messi, do not boast the same credibility as they used to.