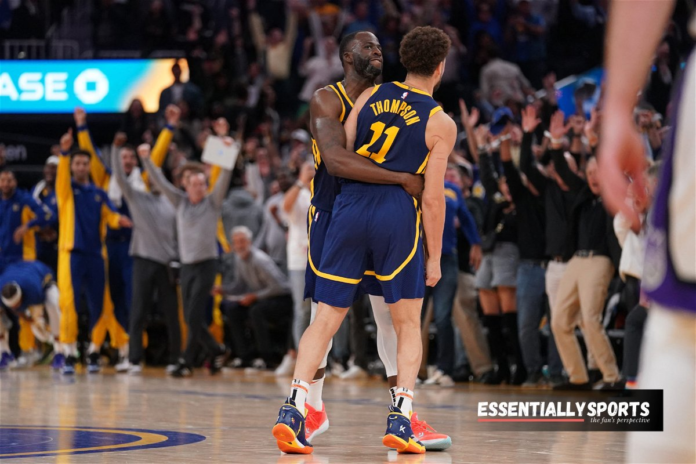 Nov 1, 2023; San Francisco, California, USA; Golden State Warriors guard Klay Thompson (11) is congratulated by forward Draymond Green (23) after making a basket with less than one second remaining against the Sacramento Kings in the fourth quarter at the Chase Center. Mandatory Credit: Cary Edmondson-USA TODAY Sports
We knew the in-season tournament is intense. The monetary reward has sparked a competitive rage within all the teams. However, not many would have expected what happened last night. The Golden State Warriors went to battle without their Stephen Curry. They were facing the Minnesota Timberwolves who only nights ago extended the 2022 champions' losing streak following a masterful Anthony Edwards performance.
America's Favorite Video Today
Looking to exact revenge, the Warriors veterans had to play a vital role. This included Draymond Green, Klay Thompson, and in parts Andrew Wiggins. Tragedy didn't take long to strike though. Within the first minute, a dramatic scuffle broke out involving pushes and a headlock.
Three ejections were handed out as a result. The dilemma is, should there be a suspension for the instigators?
ADVERTISEMENT Article continues below this ad
What did Klay Thompson and Draymond Green do
Mere 90 seconds had passed and the Wolves were on the attack. It came to no avail and the Warriors secured the rebound. With Minnesota's basket under threat, the defense went into a man-to-man formation. Jaden McDaniels had the task of guarding Klay Thompson, the Warriors' first option scorer on the night. The sharpshooter attempted to use force to run on the break, but McDaniels didn't budge. The sequence had a few shoves and at the end jerseys tug before whistles went wild. Klay and McDaniels were face to face all ready to brawl.
At that moment, Rudy Gobert intervened and went for Klay Thompson. He seemed to be the peacemaker but Draymond Green didn't notice any friendly intentions. All he says is another man is charging at his Bay brother and he couldn't sit and watch. So letting his feelings get the best of him, the former DPOY went for Gobert's throat. Not only did he viciously take him, but Green held a headlock while saying something to the French center. Even Steve Kerr and the Warriors staff had to barge the court to cool down his playmaking forward.
In conclusion, Jaden McDaniels was heated, Klay Thompson sat with a torn jersey and Green was escorted away. After careful examination, all three were directly ejected from the game.
The aftermath of the early game shenanigans
Of course, the media was going to be all over the eventful incident. Both parties had something to say starting with Rudy Gobert. The Wolves center was judged as a peacemaker by the referees and remained in the game. According to him, he predicted Green would resort to being some notorious actions because Stephen Curry wasn't able to play tonight.
"It's kind of funny because before the game I was telling myself Steph is not playing, so I know Draymond is going to try to get ejected. Every time Steph doesn't play, he doesn't want to play without his guy Steph, so he's doing anything to get ejected. It's all good,"
He revealed feeling Green's chokehold on him was "clown behavior" and that he hopes the NBA takes appropriate action.
USA Today via Reuters Nov 12, 2023; San Francisco, California, USA; Golden State Warriors forward Draymond Green (23) fouls Minnesota Timberwolves center Rudy Gobert (27) with forward Dario Saric (20) during the second quarter at Chase Center. Mandatory Credit: Kelley L Cox-USA TODAY Sports
One party not happy with Gobert going unpunished was the Warriors. HV Steve Kerr seemed livid when the three-time DPOY center wasn't booked for any foul. The nine-time champion felt Gobert's actions were malicious towards Klay. From his view, he saw the Wolves center grab his shooting guard's neck which eventually led to Draymond Green getting defensive.
"If you watch the replay, Rudy had his hands on Klay's neck. That's why Draymond went after Rudy,"
Draymond Green Chokes 7ft Rudy Gobert, Klay Thompson's Jersey Torn Apart in Massive Warriors Fight
Before justifying Green's action, Kerr also expressed his annoyance at seeing Klay Thompson's ejection. He blamed Jaden McDaniels as the aggressor and the initiator of the entire scuffle.
"There's no way Klay Thompson should've been thrown out of the game. I mean, he's running up the floor, and the guy grabs his jersey, and he's pulling on him, so Klay pulls back. No way Klay should've been ejected. That was ridiculous. So, I was upset about that"
Should anyone face a suspension?
Wolves fans are all pressuring the NBA to take action against both Klay Thompson and Draymond Green. Dub Nation wants some punishments against the Wolves duo. Some experts also weighed in on the skirmish and felt only Green could be in the danger zone. Jay Williams commented on a possible suspension and claimed the 33-year-old could face a 10-game ban for his actions. Surprisingly enough, Williams was immensely impressed with Green and said he would want a teammate like him.
ADVERTISEMENT Article continues below this ad
Now let's come to the central question? Who deserves a suspension or further punishment? Klay Thompson was aggressive no question. But his actions weren't excessive or aggravated. No doubt he wasn't on his best behavior still I think Klay will be safe.
USA Today via Reuters Nov 12, 2023; San Francisco, California, USA; Minnesota Timberwolves guard Anthony Edwards (5) shoots the ball agsint Golden State Warriors forward Draymond Green (23) during the fourth quarter at Chase Center. Mandatory Credit: Kelley L Cox-USA TODAY Sports
The same I can't admit for Green. In last season's playoffs, he earned himself a one-game suspension after stomping on Domantas Sabonis. This time around it is a literal chokehold, something that can be very dangerous. Not only that, but Green held it for a significant time making it a more severe case. With his label as a 'repeated offender', maybe this time Green will suffer a large penalty for his behavior, around the 2-5 game margin.
ADVERTISEMENT Article continues below this ad
Watch This Story – 5-Time Champion's Bold Prediction on LeBron James Comes With 1 Crucial Caveat
Do you think there will be any suspensions or maybe a couple of them? Let us know your prediction in the comments below.